This morning, Governor Andrew Cuomo vetoed Port Ambrose, the contested marine project that has threatened a prime offshore wind lease area with a proposal to install a liquefied natural gas facility off the shore of New York and Long Island.
Advocates from Sane Energy Project and All Our Energy celebrated the announcement.
Sane Energy Project attended the announcement, where Governor Cuomo thanked local officials and "the advocates," whom he said have fought "for years." Among his objections to the project, he cited super storms, risks to fishing industries, and security concerns. "We know that NY is at the top of terrorist targets." The governor also noted the conflict between the LNG port and the wind farm, saying, "There was no thought given to how the two projects could coexist."
Long Island's stellar beaches also figured large in his decision: "I came over by helicopter from the north, and these beaches are one of the great treasures of the state of New York–an international gem– when you see that strip of sand, there's nothing like it."
The Governor closed by saying, "It was not worth the risk and we're going to veto Port Ambrose," to loud and sustained applause.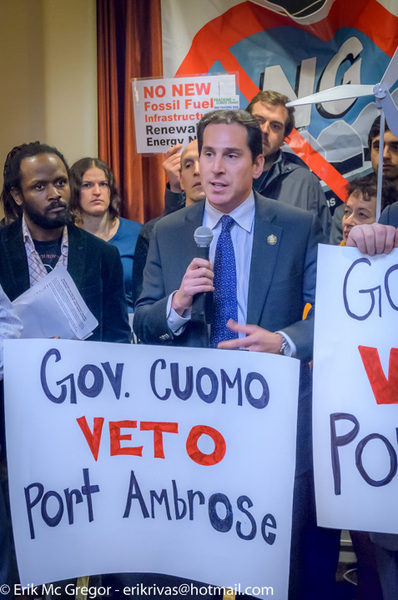 Assembly Member Todd Kaminsky, who has been a tireless leader against this project, thanked the governor for, "Understanding that renewable energy is not something we want to get in the way of."
The Assemblyman then presented Cuomo with one of the famous "Polar Bear" sweatshirts, explaining, "We have a tradition in our town every Super Bowl Saturday, where we run into the ocean, and if you're going to protect Long Island, then you, Governor, are also a Long Beach Polar Bear!"
As a member of the wide coalition that has fought this project for the past two years, Sane Energy Project applauds the governor's action, and wishes to thank the hundreds of advocates and dozens of elected officials who opposed this project and brought their considerable influence to bear.
One cannot underestimate the importance of two local resolutions, one in the City of Long Beach, spearheaded by Council President, Anthony Eramo, and the New York City Council Resolution, sponsored by then-Chair of the Environmental Committee, Donovan Richards, as well as the State Legislative sign-on letter, organized by Senator Brad Hoylman and Assemblymember Linda Rosenthal, and co-signed by more than 50 colleagues. The leadership of multiple bi-partisan County, Town, State representatives, and even federal Congresswoman, Kathleen Rice, hosted numerous community forums, press conferences and events in Long Island and the Rockaways, and have been a powerful force leading to this decision.
And the people power of everyone who signed postcards and petitions, called their councilperson, attended rallies, testified at hearings, held hands on the beach, painted banners, printed tee shirts, and told their friends about this insane project, is what impresses us the most. Thank you for everything you did to stop this project; you are the real leaders here.
The solidarity developed between NYC, Long Island and upstate because of this fight will lend momentum to the push for offshore wind, the kind of energy project we really want for this location. As a sample of that solidarity, here's a quick video diary of some of what happened between the January 2015 hearing and last week's hearings:
[youtube https://www.youtube.com/watch?v=hhhcCKijG9U&w=420&h=315]
Combined with recent statements by both the director of BOEM (The Bureau of Ocean Energy Management) and NY State Energy Czar, Richard Kauffman, this death knell for Port Ambrose opens the real possibility to develop the long-awaited project previously known as the "Rockaway Wind Farm" and now called the "Long Island - New York City Offshore Wind Project," a partnership of Con Ed, LIPA and NYPA.
The postcards we had printed to ask for the Governor's veto will now be used to THANK him; please pick up a handful at any of our upcoming events.
The Governor's announcement was widely picked up by media: